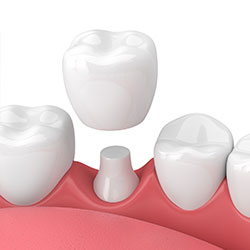 Crowns are one of the most reliable ways to restore strength, function, and aesthetics to a tooth. Typical reasons for crowns include broken teeth, broken fillings, pain associated with chewing, large (over 50% of the chewing surface) existing fillings, or teeth with or without fillings that have cracks or fracture lines visible in them. They will help hold the tooth together and inhibit fracturing in the future, it will help your bite and how well you can floss the tooth, and it will also make the tooth look better aesthetically.
Crowns from Brookfield Dental Care are adhesively cemented onto an existing tooth and fully cover the portion of your tooth above the gum line. In effect, the crown becomes your tooth's new outer surface. Crowns are usually made entirely of porcelain or zirconia, both tooth-colored and translucent materials, but also can be made of gold alloys and porcelain.
The dentists at Brookfield Dental Care have restored thousands of smiles using strong, natural-looking crowns. In addition to having your crown prepped and placed by your dentist and not an assistant, we also only use the highest quality local labs to create crowns that look great, fit well, and function ideally for years to come.
A crown is the finest restoration you can place on your tooth—they are strong, aesthetic, and long-lasting. Learn more about how we can restore your smile with a crown by scheduling an appointment at our Brookfield dental office!